Dr. Jessica's Bio
Dr. Jessica Pelletier is the founder and owner of Adjust to Wellness Family Chiropractic in Fall River. Dr. Jessica became a Chiropractor because she was motivated to find the key of health, and is passionate about educating her patients about how to live a pain free life and stay healthy for long term. As a Wellness Chiropractor she has two goals for her patients. The first is to find and correct the cause of the pain, and the second one is health optimization and vitality.
Dr. Jessica has done extensive training with the International Chiropractic Pediatric Association in order to master chiropractic care for pediatrics and pregnancies, and is Webster certified with the ICPA. The Webster Technique is a chiropractic procedure that she uses in the care of pregnant moms, that allows the mother to be more comfortable during pregnancy and prepares the pelvis for a safer and easier birth.
After completing her CÉGEP in Science, Dr. Jessica continued her studies at Université du Québec à Trois-Rivières in their five-year chiropractic program. During her studies, Dr. Jessica moved to Halifax for one summer to learn English as she wanted to become a bilingual chiropractor. That summer changed her life when she fell in love with the city, the people and the beautiful maritime beaches! In 2011, she graduated with a Doctorate in Chiropractic.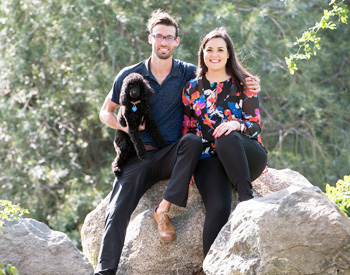 After university, she followed her heart and moved from Québec to Nova Scotia, to become a health leader in the Fall River community. This move led her to the opening of Adjust to Wellness Family Chiropractic. It is her everyday joy to families discover how chiropractic can change their life for the better.
She now lives in beautiful Fall River with her husband Marc. Together they enjoy going for walks with their dog Cooper, exercise at the gym, cooking healthy meals and living a healthy, well life.
Call today to schedule your time with Dr. Jessica and learn more about how she can help you achieve your health goals.
---
Meet Dr. Jessica | Adjust To Wellness Family Chiropractic | Chiropractor Fall River